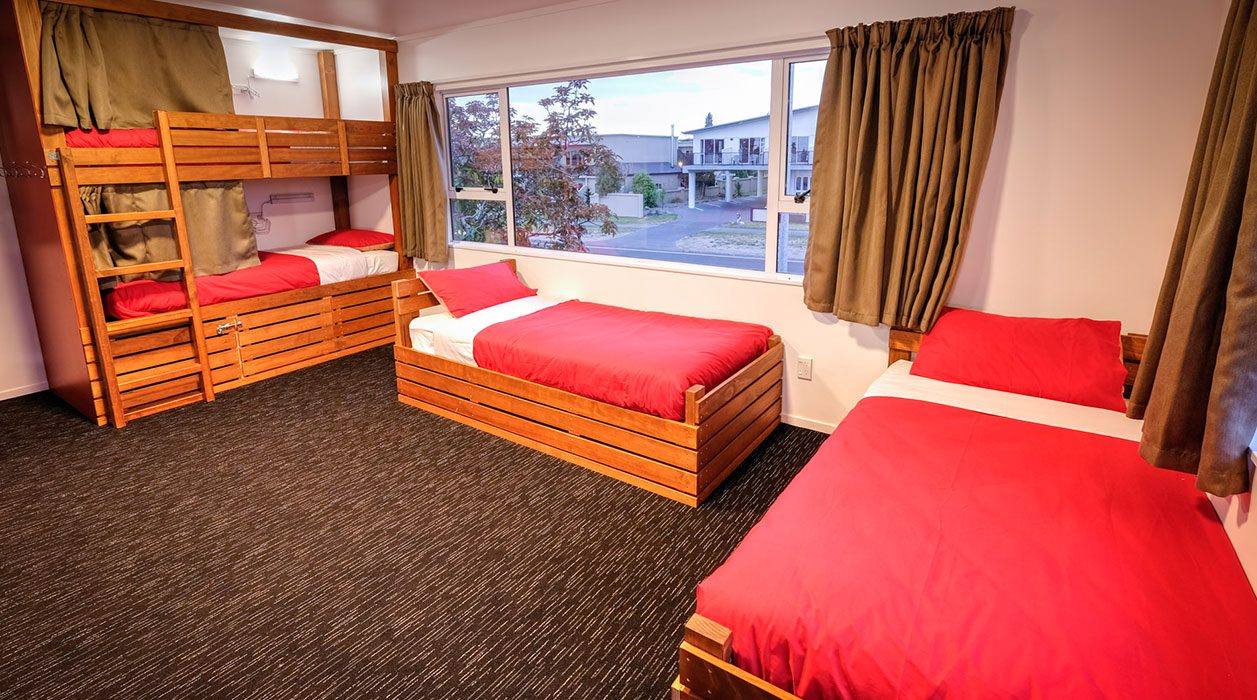 Dorm Rooms at Haka Lodge Taupō
Come and stay at the #1 backpacker lodge in Taupō. Whether you're travelling with a group of friends or flying solo, our dorm rooms are the ideal budget-friendly accommodation. We have a selection of room types – a general guide is that the more beds in a room, the cheaper the price. Haka Lodge Taupō has both Mixed and Female-only dorm room options available too, so book whichever room type suits your needs. Some dorm rooms have access to ensuite bathrooms whilst others have shared bathroom facilities only.
OUR AWARD-WINNING BUNK BEDS
Each of our bunk beds are equipped with a power socket, reading light, and a privacy curtain to give you your own space within the dorm room. Also provided are lockable storage cupboards for each bunk (large enough for your whole backpack) which means your belongings will be safe while you are out and about. Best of all, we know how important it is to keep to your travel budget AND sleep well, which is why our dorm rooms have bunks made of solid wood. This means they don't squeak when climbing onto the top bunk or when turning while you're sleeping. We also use hotel quality mattresses so that you always get a good rest.
HOUSEKEEPING 
We dislike bed bugs as much as you do, which is why we have a strict ban on sleeping bags. All linen is included so you don't need to worry about anything (apart from dropping your sheets into the laundry room at the end of your stay with us). We also have a 'one person per bed' policy for all dorm room guests. 
LODGE FACILITIES
There's a lot more to Haka Lodge Taupō than the rooms and bunks we offer, our facilities are some of the best in town. You can join in the fun in our communal lounge area and prepare your daily meals in our fully-equipped shared kitchen. We also have an outdoor hot tub and volleyball court that is free for our guests to use – just talk to the front desk about reserving your spot. Unlimited free Wi-Fi is included with every stay, perfect for updating Facebook or calling home. The shared bathrooms and laundry are clean and modern, and if you want to borrow a hair dryer or straightener, or purchase some laundry powder to get your clothes clean, our helpful front desk team are happy to assist. 
Book Now